From the League of Canadian Poets:
"We hope that this theme will inspire conversations, poems, and dialogues about the many ways poetry is expressed and honoured around the world, as well as the cultural impacts of poetry in different regions. We encourage poets from around the world to speak and write about what poetry means for their life experiences, perspectives and identity as well as the roots of poetry in their culture or country.
"What will you read this National Poetry Month? Will you start your own poetry writing project? Will you write your first poem? Will you share your poetry on stage for the first time?
Tumblebooks has some fun poetry video books to read online:  (username: tumble735, password: books)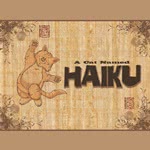 A Cat Named Haiku: Haiku is a form of Japanese poetry. Haiku is also a little cat who can't seem to stay out of trouble. "A Cat Named Haiku" tells the story of the day in the life of a mischievous little cat, as he learns a valuable lesson on love told completely in haiku. After disobeying his owner, Haiku discovers at the end of the day even if someone is mad at you it doesn't mean they don't still love you. From climbing the curtains to trying to eat the pet goldfish, all of Haiku's antics are chronicled in the three line poetry of his namesake in this 40 page children's book intended for ages 6 and up.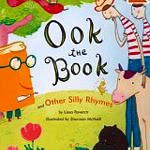 Ook the Book
Ook the Book seems like it's been around forever, dog-eared from decades of readings and rereadings. It could be the jaunty Seussian rhythms at play, but it has a classic quirkiness all its own–a blend of Calef Brown's Polkabats and Octopus Slacks and the good Dr. Seuss's The Cat in the Hat. With poem titles from "Ug the Bug" to "Eep the Sheep," you can see that the rhyme is not exactly subtle. Therein lies its charm. While its simple rhymes make it perfect for building early reading skills, Shannon McNeill's action-packed illustrations (awash in a delicious color palette) give readers of all ages plenty to snicker over. In "Ake the Snake," for example, the snake has a cake, because he can bake. The snake, coiled by the lake (sporting a cupcake chef's hat) is surrounded by baking ingredients and two tiny green traumatized bugs, who have indeed tried to take the snake cake, and therefore are being flung screaming into the lake, much to the dismay of another bug hiding behind a sack of what might be flour. We think it's gutsy to write a poem as simple as "I am At, / At the cat. / Do you see Pat? / He is my rat. / I sat on Pat, / so he is flat." And we like it. (Pat the flat rat doesn't look too happy about it, however.) A wonderful primer for wee ones just starting to have fun with words. (Ages 2 to 5) –Karin Snelson —
2. Selections from: Tea and Bannock Stories: First Nations Community of Poetic Voices (Simon Fraser University, First Nations Studies. Compiled by annie ross, Brandon Bob, Eve Chuang and the Chuang Family, Steve Davis, Robert Pictou)
3. Selections from Poetry Foundation: Poetry for Children
Ideas for Teachers: (from the League of Canadian Poets)
Poetry Play Stations
Poetry play stations use different techniques to encourage young readers to craft poems. Here are some great stations to include:
Erasure poetry: Using a page of existing text, use a black marker to complete cross out sections of the text — the words or phrases that remain can be strung together to form an original poem! Part of the beauty of erasure poem is how the entire page looks when completed, blacked-out sections and all.  Try it with a newspaper article!
Found poetry: Found poetry is very similar to erasure poetry — well, erasure poetry is a kind of found poetry — but with a little more freedom. Again using an existing text, participants select words or phrases from the text that they think will make a great poem: using the found words and phrases, they can play with line breaks, stanzas, and other ways of construction an original poem from the found text!
Book spine poetry: This is a great poetic experiment that takes over Twitter every April — using as few as three or as many as… well, as many as you can stack, create a poem using the titles of books as they appear on the spines. These make excellent photos and are great for sharing!
Magnet poetry: A classic! Choosing words from a pile of individual words to string together an original poem. This could be from a magnetic poetry set, but you could also simply prepare an assortment of words for participants to choose from." (Source: League of Canadian Poets)